Subscribe for your chance to WIN 1 of 5 gardening packs from Garden Express!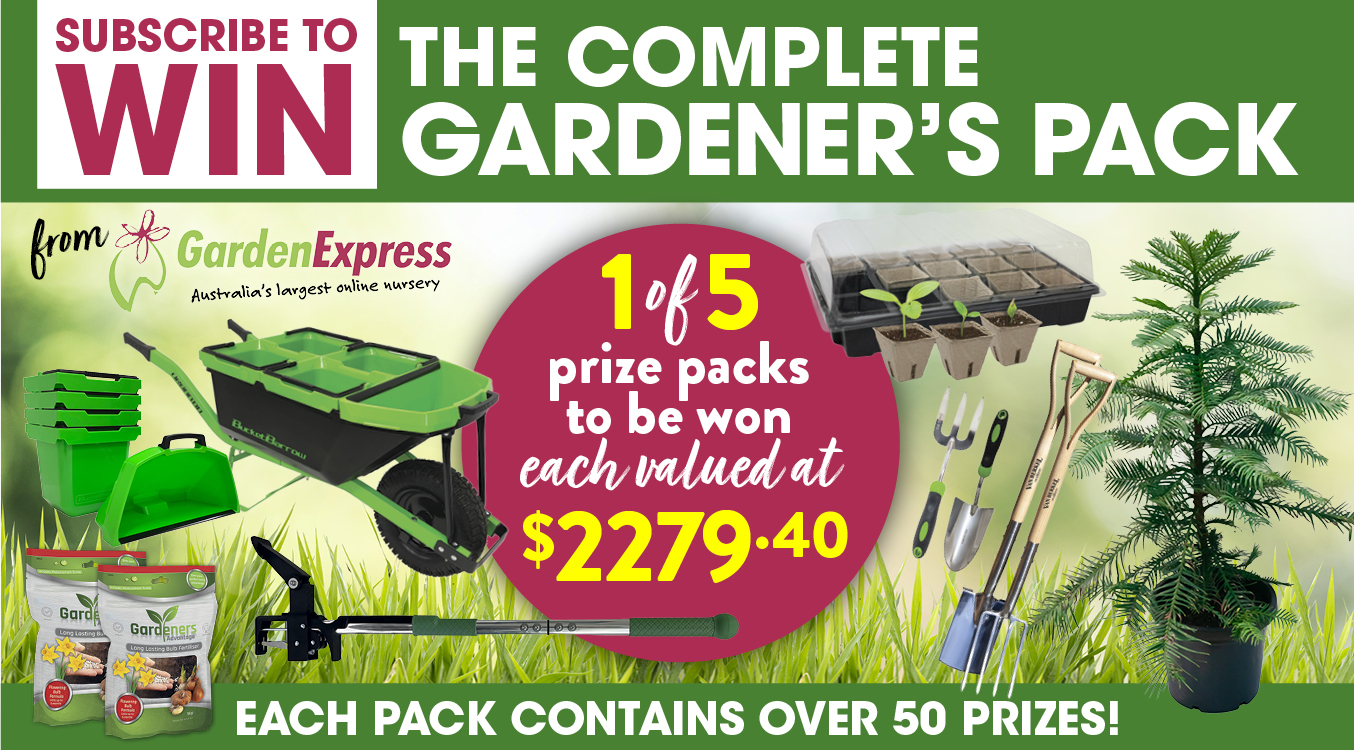 Win the complete gardener's pack from Garden Express!
From bulbs, trees and vegies to digging holes and planting seedlings, Garden Express Australia offers a wide range of products, catering to all garden types (and all gardeners!). Whether you have a backyard full of vegies or a balcony where everything is growing in pots, Garden Express has all the tools and accessories to help your garden grow.
Subscribe, extend or renew today for a chance to win a Complete Gardener's Pack, including a collection of items from the Garden Express website. These goodies will keep every gardener happy through autumn, winter and beyond!
EACH PACK CONTAINS OVER 50 PRIZES INCLUDING:
One Gardeners Advantage pack with 40 gardening accessories selected by Garden Express Australia, including: a bulb planter and baskets; a peat pot starter kit; a rose ring (for supporting a standard rose), along with rose fertiliser and de-thorner; plus a range of tools to cover your gardening needs as you dig, plant, maintain and protect your patch.
A Van Berkel spade, garden fork and pruner, and a wooden harvest basket.
One Wollemi pine in a 300mm pot.
One Bucket Barrow Urban88 Kit, including a narrow wheelbarrow with four integrated, removable 15L buckets and a 12L multipurpose scoop.
A $500 Garden Express voucher to spend at gardenexpress.com.au
HOW TO ENTER: Simply subscribe, extend or renew your subscription to any print magazine participating in this promotion for a minimum of one year. To be eligible to win, entries must be received by 11:59pm AEDT 7/8/22.
PARTICIPATING TITLES: Australian Mountain Bike, Australian Muscle Car, frankie, ABC Gardening Australia, Golf Australia, Healthy Food Guide, K-Zone, MAD, Old Bike Australasia, ABC Organic Gardener, Prevention, Science Illustrated and Total Girl.
Click here for full competition terms and conditions
LIST OF ITEMS INCLUDED IN EACH PRIZE PACK:
| Product | RRP |
| --- | --- |
| Garden Express Gift Voucher | $500 |
| Van Berkel Garden Tools Set (Spade and Fork) | $198.00 |
| Van Berkel Prunner | $29.90 |
| Van Berkel Wooden Harvest Basket | $39.90 |
| Wollemi Pine 300mm Pot | $499.00 |
| Bucket Barrow Urban 88 | $229.00 |
| Gloves x 2 pairs | $9.80 |
| Soft Garden Ties (25m) x 2 | $15.80 |
| Standup Weeder | $59.90 |
| Peat Pot Starter Kit | $24.50 |
| Peat Pot Tray Kit | $14.50 |
| Peat Pot Refills (15pack) x 2 | $15.00 |
| Plastic Plant Tags (20 pack) x 2 | $13.80 |
| Universal Knife Tool | $22.90 |
| Multi Use Scoope | $16.90 |
| Rose Ring | $70.00 |
| Rose Fertiliser (1kg) | $12.90 |
| Rose Dethorner | $4.90 |
| Bulb Planter | $9.90 |
| Bulb Basket Round 22cm (set of 3) | $6.90 |
| Bulb Basket Round 26cm (set of 3) | $7.90 |
| Bulb Basket Round 30cm (set of 3) | $8.90 |
| Bulb Fertiliser (1kg) | $12.90 |
| Garden Tunnel Poly | $29.90 |
| Garden Tunnel Fleece | $29.90 |
| Garden Tunel Shad Mesh | $29.90 |
| Humming Line (30m) | $19.90 |
| Popup Garden Bag | $19.90 |
| Plant Support Round - Fixed (3 Pack) | $10.90 |
| Plant Stakes Metal (4 pack) | $14.90 |
| Flexible Bamboo Style Support (5 pack) | $14.90 |
| Hand Fork | $12.90 |
| Hand Scoop | $12.90 |
| Hand Spade | $12.90 |
| Hand Cultivator | $12.90 |
| Hand Rake | $12.90 |
| Hand Edger | $12.90 |
| Knee Pads | $44.00 |
| Metal Kneeler/Seat | $59.90 |
| Lawn Aerator Sandals | $24.90 |
| Easy Garden Obelisk | $39.90 |
| Easy Garden Arch | $39.90 |
| TOTAL PRIZE PACK VALUE | $2,279.40 |