Subscribe for your chance to WIN the holiday of your dreams with a $15,000 voucher thanks to Collette!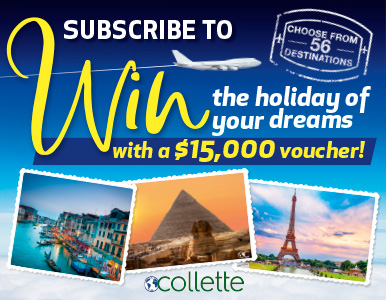 With Collette, the world is within your reach
Since 1918, Collette have been creating extraordinary guided travel experiences. Collette tours come with benefits that take your guided travel experience to another level. Their inclusive packages provide more value for your money and more of what makes travel special. With over 150 tours to 56 countries on all continents, you'll be sure to find something that suits your desires.
HOW TO ENTER: Simply subscribe, extend or renew your subscription to any print magazine participating in this promotion for a minimum of one year between 11/11/21 and 27/2/22.
PARTICIPATING TITLES: Australian Mountain Bike, Australian Muscle Car, frankie, ABC Gardening Australia, Golf Australia, Healthy Food Guide, K-Zone, MAD, Old Bike Australasia, ABC Organic Gardener, Prevention, Science Illustrated and Total Girl.

For full terms and conditions please click here.